Oyo State is known for being the state with the first degree awarding university in Nigeria (University of Ibadan) and the first TV station in Africa (NTA). It is also home to Nigeria's first sky scrapper, Cocoa House, and the country's first private television station, Galaxy TV.
As a state of firsts, it is the perfect place for historical, cultural, food and ecological tourism. Blessed with many attractions, Oyo State draws in tourists from across the nation.
---
Read more about Travel and Tourism
---
Here are a few tourists spots in Oyo:
1. Agodi Park and Gardens
This park is in the heart of Ibadan, the capital city of Oyo. From the multiple blue swimming pools that punctuate the lush botanical fields and zoo to the forest walk way, Agodi Gardens is a place to visit. In this garden is also a lake where boating activities take place. It is definitely great for relaxation and entertainment.
2. Ado Awaye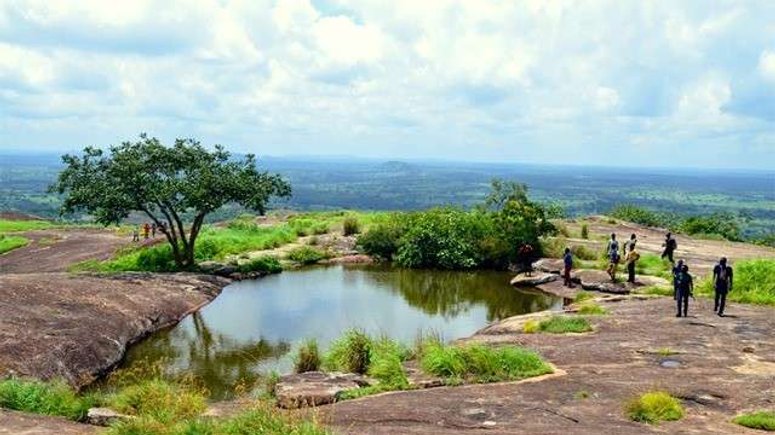 Ado Awaye is a town with the popular Oke Ado Mountain and Iyake Lake, the only suspended lake in Africa. Ado Awaye has other mountains and lakes, but the footprints, elephant tree, and the Ishage Rock are around Oke Ado mountain. Only brave climbers can cross the chasm to the peak of the other mountains in Ado Awaye. It is a perfect spot for rock climbing, hiking, picnics, a photo session, and for enjoying the breathtaking panoramic views of the town below.
3. IITA Forest Reserve
The beauty of IITA Forest Reserve is felt in it's natural landscape of wetlands, lakes and farmlands, the animals in their natural habitat, and the clean air quality of it's atmosphere. This forest reserve has over 200 bird species, 220 butterfly species, and 440 plant species. The facility also has swimming pools, badminton court, a golf course, and a football pitch among others. Here, visitors enjoy birdwatching, hiking, forest bathing, and sporting.
4. UI Zoological Garden
The University of Ibadan zoological garden is ranked as one of the best zoos in an institution in Nigeria. It has an array of mammals, reptiles, birds, and amphibians.  Renovated in 2015, the zoo has become a beehive of activities such as picnics.
---
Sign up to the Connect Nigeria daily newsletter
---
5. Mapo Hall
Built in 1929 by a welsh engineer, Engr. Robert Jones, Mapo Hall is an architectural delight. It was modelled after St George's Hall in Liverpool and is reminiscent of the Alabama Capitol Building. This iconic building in Ibadan is a centre for social and political events. It has a mini museum with pictures of past kings of Ibadan and chains used during the colonial era to hold tax evaders.  
6. Ventura Mall
In addition, thrill seekers who find nature boring can visit Ventura Mall in Ibadan for a range of activities. You can watch movies at the cinema, play video games at the arcade, go bowling, and have kids play with bouncy castles. It is a great place for a family outing and for getting sweet photos for a keepsake.
Featured image source: Visit Naija NG
---
Got something you want to read about on our platform? Contact us: editor@connectnigeria.com
---
You might also like:
This article was first published on 17th January 2020
---
---
Comments
(1)